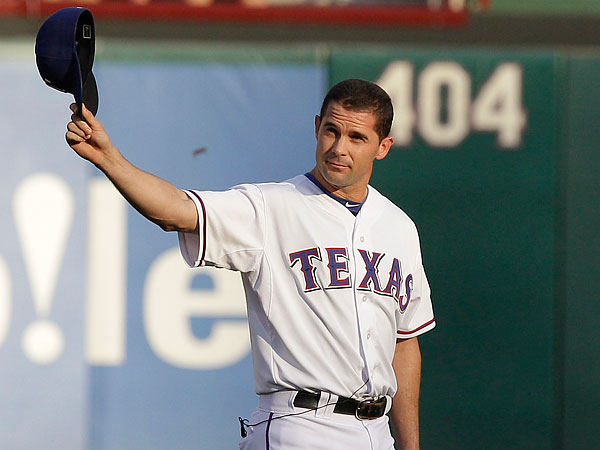 Over the weekend we learned that fan favorite and the face of the Franchise, Michael Young had indeed waived his no trade clause for the opportunity to be traded to the Philadelphia Phillies. This came as a shock to most longtime Rangers fans who loved Michael Young, but there isn't anybody out there who will say a bad thing about him. This was a prime opportunity for Young to become an everyday player again.
Things have been frosty between Michael Young and the front office since 2009 when there was a public outcry against the move from shortstop to third base. But Young being the consummate professional just accepted the multiple moves and continued to be a great "room guy" even when he disagreed with the move. You could tell last season that Young was not happy about his playing time being cut, and the fact he wasn't an everyday player in the field.  But you never heard him publicly complain, or make any stink in the clubhouse about it.
Young even said himself "when this opportunity came available, it was a no brainer". Michael Young is a competitor and a great player; he needs to be thanked for his 12 years of dedication and loyalty to the club. Fans need to remember, this was not something he requested, or even made happen on his own. The Phillies threw out an offer to the Rangers and Young had the chance to say no and stay, but knowing he wouldn't play every day, and he would probably play less this season, he couldn't help but say yes.
Michael Young's hand was practically forced by the organization to accept this trade, because they have been pushing him further and further back for the last three years. Was he the best defensive player? No, was he the best hitter? No, but he was consistent and always gave his all. That is all you can ask for from a player, he never acted better or too good for the team. He was the consummate teammate and professional. There need to be more players like him in pro sports because he is the perfect role model.
Farewell Michael, we wish you the best of luck in Philadelphia, I will gladly stand and cheer for you next time you visit the ballpark.